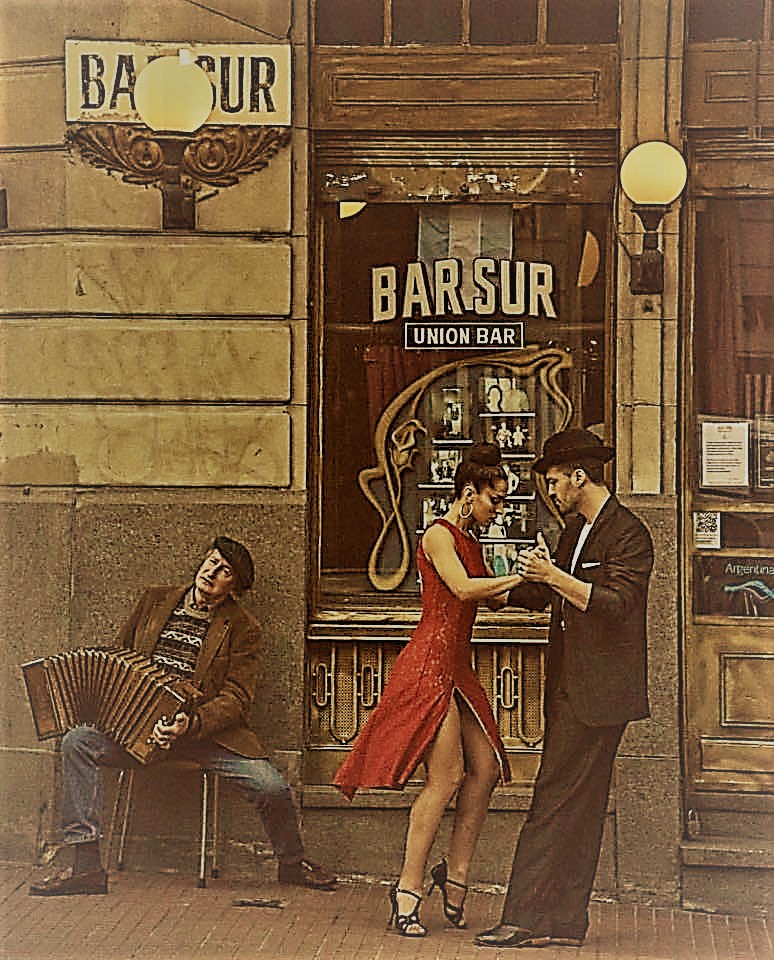 ---
Workshop&Milonga
Please see for English below~
---

Zondag 27 Januari

Workshop Fundamentals in de Argentijnse Tango
12-14.30uur
door Mariano Laplume
 
Tango@theOffice 
15-19uur
DJ Mariano (traditioneel)



---
De  Workshop
Een Workshop voor Beginners en voor hen die de Basiskennis van de Tango weer op willen halen.
Samen met Mariano werk je aan:
-de Tango Embrace
-de Verbinding en Communicatie tussen leider en volger
-het Lopen in een Parallel Systeem
-het veranderen van Gewicht
-de principes van Improvisatie
Bovendien krijg je een introductie in Draaien en in de Tangomuziek.
Je hebt geen ervaring of partner nodig!
Maar natuurlijk kun je ook mét een partner te komen.
.
Mariano
Mariano Laplume is een veelzijdig artiest uit Buenos Aires. Hij begon zijn zoektocht naar de Tango als dansvorm in 2003. Hij ontwikkelde zijn Dans naast zijn succesvolle carrière als Tango Musicus.
Mariano studeerde Tango in Buenos Aires met verschillende bekende en gerespecteerde leraren.
Maar zijn Dans is vooral het resultaat van zijn eigen inspanning en creativiteit. Samen met Maral Kojayan, ontwikkelde en combineerde hij zijn kennis van muziek en lichaamsbewustzijn met de fundamenten van de Tango.
Maral & Mariano werkten samen in Buenos Aires, Parijs, Berlijn, Londen en andere Europese steden. Ze hadden zes jaar lang hun basis in Londen, verhuisden recent naar Rotterdam, en terwijl ze hun succesvolle Tango Garden (Londen) blijven voortzetten, zijn ze bezig hun Tango activiteiten in Nederland vorm te geven.
De synthese tussen muziek, beweging en lichaamsbewustzijn in Mariano, maken zijn Dans ritmisch accuraat met een elegante houding en een goed afgestemd leiden in een duidelijke maar zachte embrace.
De Kosten
Workshop  25 euro
Workshop en Milonga 30 euro
~je bent Welkom! om na de Workshop te blijven en te oefenen op de DansVloer~
Milonga only 7 euro
Aanmelden voor deze Workshop
Om je aan te melden volg deze Link en stuur me een Bericht. 
Ook als je nog Vragen hebt, kun je deze link gebruiken!
De Locatie
The Office
Alexanderveld 84-97
5de Verdieping (met lift of trap)
2585 DB Den Haag
De Route
Kosteloos parkeren in de omliggende straten.
Verschillende Bussen en Tram 9 stoppen dichtbij the Office.
---

Sunday January 27

Workshop Fundamentals in Argentine Tango
12-14.30h
by Mariano Laplume
 
Tango@theOffice 
15-19h
DJ Mariano (traditional)



---
The Workshop
A Workshop for Beginners and for Those who want to refresh the Basics.
Together with Mariano you will work on:
-the Tango Embrace
-the Connection and Communication between leader and follower
-the Walk in a parallel system
-the Change of Weight
-the principles of Improvisation
Furthermore you will get an introduction to Pivots and to the Tango Music.
No experience or partner is needed!
But of course you can also come with a partner.
.
The Teacher
Mariano Laplume is a multifaceted artist from Buenos Aires. He began his investigations with Tango as a Dance-form in 2003.  He developed his Dance alongside his successful career as a Tango musician.
Mariano studied Argentine Tango in Buenos Aires with a number of different well known and respected teachers, however Mariano's Dance is very much the result of his own efforts and creativity.  Working together with Maral Kojayan,  he has developed and combined his knowledge of music and body awareness with the fundaments of Tango.
Maral & Mariano have worked together in Buenos Aires, Paris, Berlin, London and in other European cities. Based for 6 years in London and now recently moved to Rotterdam, Maral & Mariano continue to run the very successful yet unpretentious Tango Garden whilst setting up their tango activities in The Netherlands.
The synthesis between music, movement and body awareness in Mariano,  gives rise to a Dance characterised by rhythmic accuracy, postural elegance and a fine-tuned lead through a clear yet gentle embrace.
The Costs
Workshop  25 euros
Workshop and Milonga 30 euros
~after the Workshop you are Welcome! to stay and practise on the DanceFloor~
Milonga only 7 euros
Registration for the Workshop
To register follow this Link and leave me a message 
Of course you can also use the Link if you have any Questions!
The Location
Alexanderveld 84-97
5th Floor (with elevator or stairs)
2585 DB The Hague
The Route
Free Parking in the surrounding streets.
Several Busses and Tram 9 have stops close to the Office.
---