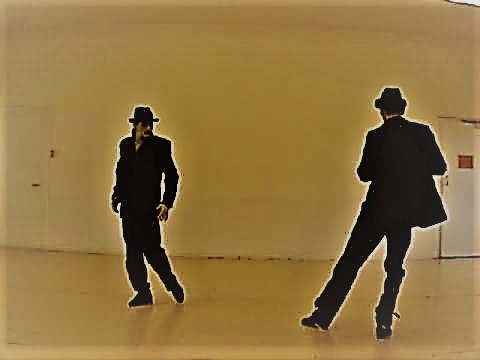 See for English below~
---

Zondag 14 april

Workshop NeoTango
GEANNULEERD!
 
NeoLonga@theOffice
DJ Ezequiel 
16-20uur

---
de Workshop
NeoTangoMoves & Dynamics
In deze workshop leer je verschillende bewegingen die goed passen bij de muziek en kwaliteit van NeoTango.
De focus zal liggen bij het verschil tussen de Traditionele en de NeoTango kwaliteit.
Wat maakt een beweging een NeoTango beweging?
Als je Moderne Tangos en vooral NonTangos danst, vraagt dat om een aanpassing aan de verschillen in dynamiek en muzikale rijkdom. Deze hebben een grote invloed op de bewegingen, en bieden tegelijkertijd de mogelijkheid op andere manieren te Dansen.
Je leert nuttige bewegingskwaliteiten en krijgt muzikale handvaten om te Genieten van het Dansen van NeoTango.
Ezequiel Sanucci
Ezequiel is één van de initiatiefnemers van La Neo in Amsterdam.
Hij werd geboren in Buenos Aires en groeide op te midden van de Tango muziek en cultuur. Op 17 jarige leeftijd begon hij aan een lange carrière als solist in het ballet en de moderne Dans in Argentinië, Nederland, Duitsland, Zwitserland, Frankrijk en Spanje. Hij Danste onder andere bij het Internationaal Danstheater, LeineRoebana, Korzo Producties, Lonneke van Leth, het Ballet del Teatro Colón en Stadttheater Luzern.
Naast zijn carrière in de moderne Dans, gaf hij Tango optredens en-lessen op grote Tangofestivals.
Sinds 2008 onderzoekt hij de cross-over tussen Tango, hedendaagse Dans, ballet, contact improvisatie en theater. En hij creëerde zijn eigen Hedendaagse Tangostijl.
Op dit moment houdt hij zich bezig met lesgeven en optreden: Argentijnse Tango, hedendaagse  Tango en contact Tango. Daarnaast DJt  hij en maakt hij choreografieën voor Tango Theater.
de Kosten
10 euro
Aanmelden voor de Workshop
Via het ContactFormulier op deze site: volg daarvoor Deze Link.
de Locatie
the Office
/een leegstaand kantoorpand in de buurt van het VredesPaleis/
Alexanderveld 84-97
5de verdieping (met de lift of de trap)
2585 DB Den Haag
de Reis
Parkeren in de buurt is gratis.
Vanaf Den Haag Centraal ligt het Kantoor op een kwartiertje reizen.
Verschillende bussen en de tramlijn 1 en 9 stoppen in de buurt van the Office.
---
Sunday April 14

Workshop NeoTango
CANCELLED!

NeoLonga @theOffice 
DJ Ezequiel 
16-20h

---

the Workshop
NeoTangoMoves & Dynamics
In this workshop you will learn several movements that fit very well with the NeoTango music and quality.
The focus will be placed on the difference between the Traditional and the NeoTango quality.
What makes a movement look and feel NeoTango?
By Dancing Modern Tangos and especially NonTangos, we need to adjust to the different dynamics and musical richness. This of course has a big influence on the movements, creating a need for different ways of Dancing.
You will learn very useful Movement Qualities and Musical Tools to enjoy Dancing NeoTango.
Ezequiel Sanucci
Ezequiel is one of the founders of La Neo in Amsterdam.
He was born in Buenos Aires and he grew up with the tango music and culture. Ezequiel started studying ballet, tango and Argentinean folklore at the age of 12 at the school of Teatro Colón in Buenos Aires. At the age of 17 he started a long carrier as a soloist ballet and contemporary dancer in Argentina, The Netherlands, Germany, Switserland, France and Spain. He worked with Internationaal Danstheater, LeineRoebana, Korzo Producties, Lonneke van Leth, Ballet del Teatro Colón, Stadttheater Luzern, amoung many other dance companies and choreographers. He combined his contemporary dance career with his professional tango career by performing and teaching at major tango festivals.
Since 2008 he started his research about the cross-over between tango, contemporary dance, ballet, contact improvisation and theater, creating his own Contemporary Tangostyle.
At this moment he is fully dedicated to teach and perform Argentine tango, contemporary tango and contact tango, to DJ, and to choreograph tango dance theater pieces.
the Costs
10 euros
Registration for the Workshop
Please Follow this Link!
the Location
the Office
/is located in an empty Office Building close to the PeacePalace/
Alexanderveld 84-97
5th Floor (with elevator or stairs)
2585 DB The Hague
the Route
Free Parking in the surrounding streets.
Several Busses and the Trams 1 and 9 have stops close to the Office.
---