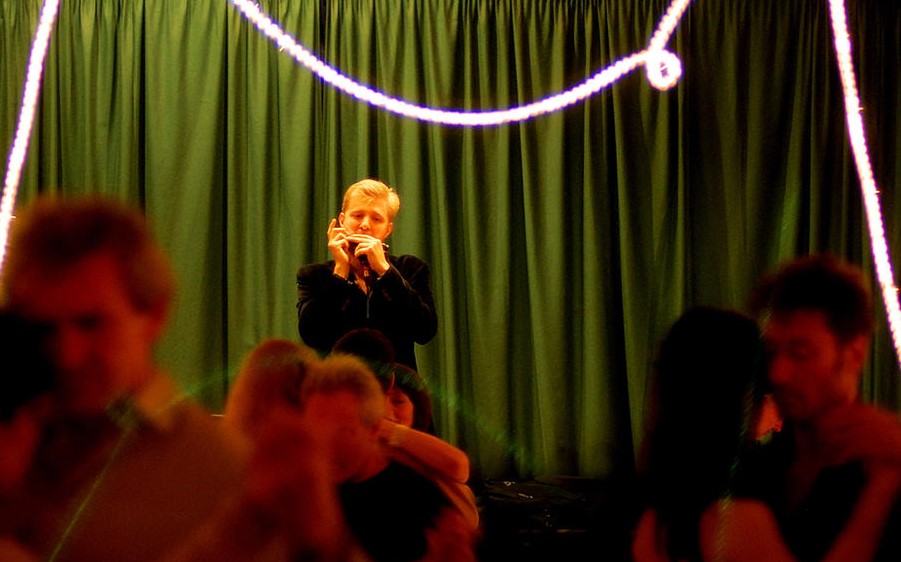 ---
TangoConcert&Salon
---
Sunday June 23
15h-19h
DJ Marleen
&
15.30h-17.30h
Live Music !
Joe Powers on the Harmonica
Mark Wyman on the Piano
---
---
Joe Powers & Mark Wyman
Harmonica Virtuoos Joe Powers heeft muziek gemaakt en opgetreden met ElectroTango bands: Otros Aires, Tanghetto en Narcotango. Hij werkte samen met vermaarde TangoMaestros over de hele wereld van Parijs tot Tokyo.
Pianist Mark Wyman heeft een brede muzikale ervaring, van klassiek tot punk, van pop tot avant-garde. Hij bespeelt alles met toetsen of knoppen, piano, orgel en veel verschillende synths. Hij treedt alleen op, maar ook met verschillende bands door het hele muzikale spectrum.
Het Duo zal vanmiddag Traditionele Argentijnse Tango om te Dansen, Nuevo Tango/Piazzolla én hun eigen composities spelen.
//
Harmonica Virtuoso Joe Powers has performed and recorded with ElectroTango bands: Otros Aires, Tanghetto and Narcotango. He collaborated with renowned Tango Maestros around the world from Paris to Tokyo.
Pianist Mark Wyman has a very broad musical experience, from classical to punk, from pop to avant-garde, playing anything with keys or knobs, piano, organ, accordion, and many different synths. He has performed solo and with many different groups across the entire musical spectrum.
The Duo's repertoire includes Traditional Argentine Tango for Dancing, Nuevo Tango/Piazzolla and their own original compositions.
---
---
&
the DJ
Marleen
(MBrace Style)
the Costs
15 euro  Dansers/Dancers
7,50 euro Luisteraars/Listeners
the Location
The Office
/een Leegstaand KantoorPand met Uitzicht en een fijne DansVloer in de buurt van het VredesPaleis/
/an Empty OfficeBuilding with a View and a good DanceFloor close to the PeacePalace/
Alexanderveld 84-97
5de Verdieping / 5th Floor
2585 DB Den Haag
The Route
Gratis Parkeren in de omliggende straten.
Verschillende Bussen en de Trams 1 en 9 stoppen dichtbij The Office.
Free Parking in the surrounding streets.
Several Busses and Trams 1 and 9 have stops close to the Office.
Welcome
om te Luisteren! / to Listen!
om te Dansen! / to Dance!
om te Genieten! / to Enjoy!
---